Explore Kefalonia

The island of contrasts, a mix of mythology and history

Explore Kefalonia

The island of contrasts, a mix of mythology and history

Explore Kefalonia

The island of contrasts, a mix of mythology and history
Kefalonia Island Greece
Kefalonia Island is part of the Ionian Islands and one of the prime vacation spots in Greece. It is celebrated for its dramatic scenery combining mountain and sea. Most visitors have made Kefalonia a yearly trip, and have marked it as an unforgettable destination. In Kefalonia you can enjoy the Greek nature, the fresh sea breeze, the welcoming waters of the Ionian Sea, the traditional Greek cuisine and last but not least the unique Greek hospitality!
Kefalonia has many gems, whether you are looking for sandy beaches, rugged mountains or picturesque villages, but the undoubted jewel is Myrtos beach voted "Best in Greece" for its turquoise blue waters, fine sand, cleanliness and spectacular location. The Island has a mild climate throughout the year not reaching the high temperatures of the Aegean in the summer and being protected by the mainland mountains from harsh winds the winter.
Here you will find useful information for sightseeing tours, the best beaches and everything you need to make your accommodation in Kefalonia unforgettable.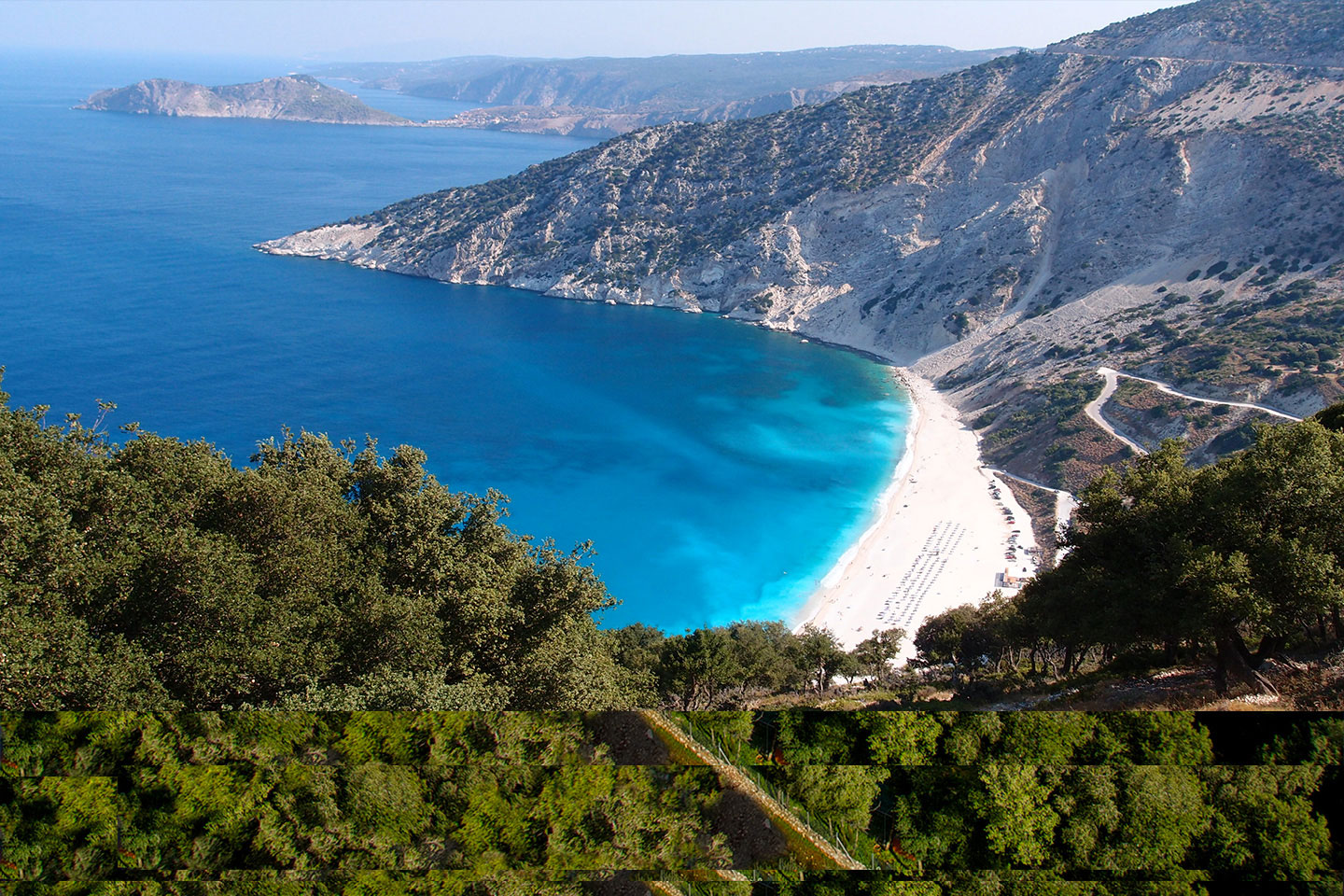 Must See
Beaches, Villages & Attractions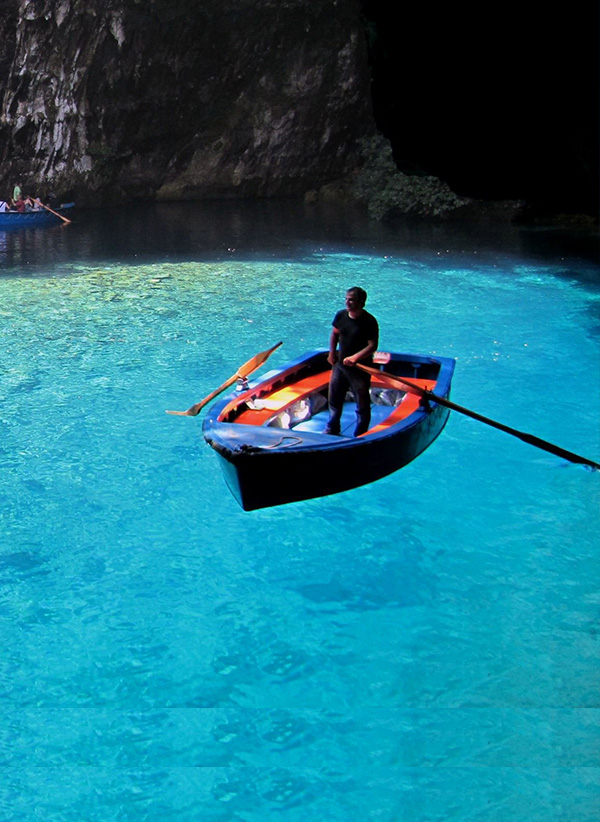 Melissani Lake : An absolutely "must see" in village Karavomilos. Crystal clear waters and unique geophysical sculptures, seen from a boat that guides you throught the entire lake. An unforgetable experience.
Drogarati Cave: The cave is dated more than 100 million years. It's concidered one of the most beautiful caves in Greece. The acoustics is unique and from time to time concerts take place in it. Also a "not to miss" sight, near village Chaliotata.
Antisamos Beach: Antisamos beach, near Sami, is one of the best beaches of Kefalonia. It is a beautiful pebble beach with turquoise waters, surrounded by impressive verdant hills. Thousands of visitors are attracted every summer by the natural beauty of the place.
Myrtos Beach: It is considered as the most famous beach in Kefalonia. The beach has a blue flag every year and it is in the top ten beaches in Europe. From the road above you have the most stunning view of the beach, known for the contrast of the white pebble and the shades of blue that the waves create in the sea with the dark green of the area...
Assos Village: Assos is a small and picturesque fishing village 25 kilometers away from Sami. It is known for its imposing 16th century Venetian fortress. The fortress was built in 1585, when Assos became the capital of the northern part of the island, and it is a typical masterpiece of the Renaissance architecture.

Fiskardo Village: At the northern end of the island, maybe the most graphic landscape in Greece. Thousands of yaghts visit this amazing bay every year. Also surrounded by an amazing scenery.

Skala Village: Skala is located at the south - east corner of the island. Besides of the beautiful scenery and the long sandy fully organized beach, here you can also find everything you need from a variety of banks, supermarkets, caffe's, bars and restaurants, pharmacies and many more.
Mount Aenos: Words cannot describe how awesome this majestic mountain is. Black pine trees, fresh air and a breathtaking view, suggest an experience few people have the privilege to live. Become a part of nature's magic.

Saint Gerasimos Monastery: The patron saint of the island of Kefalonia. It's believed that the Holy Relics of the Saint, performs miracles. In 16th of August, in wich a great miracle occured, a huge festival takes place two times in the year.

Argostoli: The capital of the island. Also surrounded by trees and beautiful beaches. Here you can find anything you desire, walk to Lithostroto with many stores, cafe's, bars and nightclubs. You will also find a variety of banks and public services.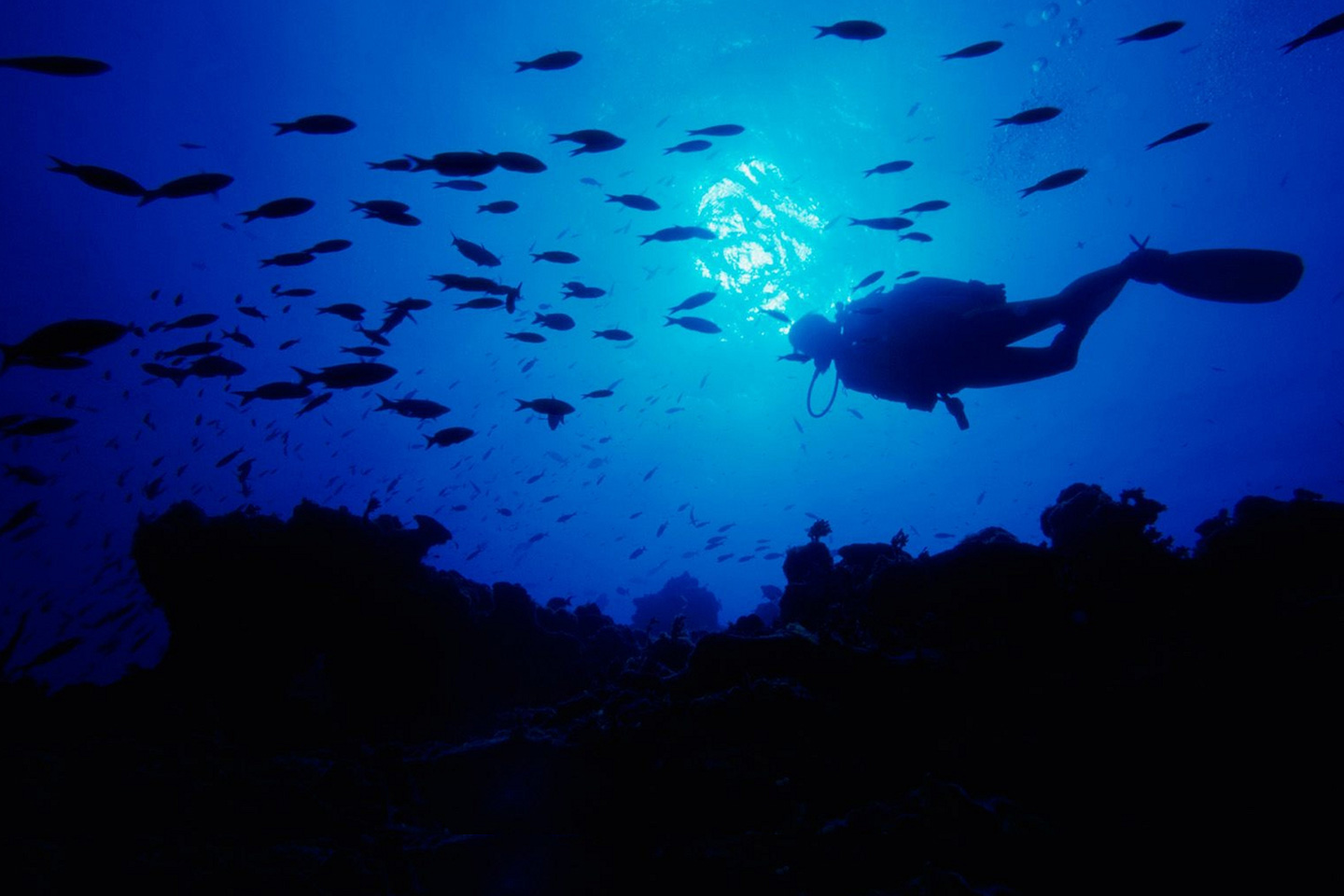 Must Do
Experiences & Activities
Scuba Diving: Aquatic Scuba Diving Club intends to guide you to another world a different world than the one you are used to the wonderful world of the bottom of Kefalonia. Aquatic Scuba Diving Club, the premium Diving Club in Kefalonia is established since 1997 in Agia Efimia and offers a full range of training courses and dive packages for qualified divers and complete beginners. We are expecting you to a magical trip! Catamaran Sailing: Sail visiting typical Ionian Greek villages and secluded beaches on Kefalonia, Ithaca Lefkas and Meganisi. An ideal way to go sailing and explore the beautiful secluded bays and beaches of the Ionian Islands on a very spacious and comfortable luxury catamaran... Boat Hire: All Kefalonia's secluded bays and beaches have their own distinct beauty. Hiring a boat from Agia Efimia you can explore the idyllic green coastline of northern Kefalonia. You can either find your own little cove or you can try your fishing skills. The beautiful clear sea is also perfect for snorkeling with underwater visibility of up to 50 meters. You will experience a unique feeling of freedom while exploring the beautiful coastline and you will always remember this unforgettable day. Daily cruises to Ithaca: No trip to Kefalonia is complete without a cruise to Ithaca, the island named after Ithacos, son of Poseidon , God of the sea. Spending one day in Odysseus homeland, departing from the port of Sami, you will be surprised just how much you can see and experience in one day!

Extreme Watersports: Extreme Watersports is located in the most beautiful beach in Kefalonia Island. Test your limits and have a blast with our top quality equipment and a variety of sports for you to choose. Alone or with a friend, or even your family. There are rides that you can enjoy this magical beach and have fun, or rides that will make your heart pump. You will explore private gulfs and other 'hidden' small beaches, as our ride last quite a long. Many years of experience ensure that nothing goes wrong and that will enjoy every minute!
Donkey Trekking: Another way to get the real Greek feeling is a ride on a donkey. Experienced, English-speaking guide will lead you safely through some of the island's most stunning scenery along the hidden trekking trails he knows so well. Let yourself overcome by the peace and calmness of the donkeys and explore Kefalonia in a traditional way.
 www.donkeytrekkingkefalonia.com Horse Riding: A horseback riding trip can be arranged for experienced riders and for those who would like to try it out for a couple of hours. You can be taken through the mountains and enjoy the beautiful sceneries and old villages or you could even swim with the horses in the sea. A professional instructor will accompany you for the day. Wine tour: If you do not walk through a vineyard and taste the unique local wines, it will be as if you have missed the true flavor of the island. Explore the secrets of Kefalonia wine and meet some of the most important producers of the island like the Robola Cooperative winery producing the famous Robola Wine. Kefalonia Cuisine: A major attraction of Kefalonia Island is its delectable local delicacies. We recommend selecting one of the many small taverns and restaurants in Sami that serve scrumptious local cuisine, including dishes such as fresh seafood, kreatopita, mpakaliaropita, aliada as well as local feta cheese which are all made just a bit tastier with a bottle of the Kefalonian wine of your choice.